Festive at The Park
Experience the Magic of the Season
Warmest wishes to you and your loved ones at this most magical
time of year. This holiday season, we invite you to make cherished memories together.
Festive Hampers
Available Throughout December 2023
Unwrap the magic of the holiday season with Park Hyatt Jakarta cookie box and festive hampers. Bringing together delightful contents in a sophisticated presentation, these gifts are a splendid way to savor the holiday spirit.
Cookie box
Choose your three favorite cookie flavors from a combination of pistachio, chocolate brownie, chocolate chip & cashew, nastar, kastengel, or cranberry and oat.
IDR 788,000 +
Hampers
Enjoy our Festive Hampers with 3 cookie varieties, Almond & Dark Chocolate Spread, Almond Chocolate Rocher, and Ginger-Infused Honey. Your choice of Stollen, English Fruit Cake, or Lapis Legit.
IDR 1,588,000+
Conservatory
Festive Afternoon Tea
Indulge in a decadent Festive Afternoon Tea, a tribute to the classics this Christmas season. Let our Pastry Chef, Ali Saleh take you on a journey of sweet and savory delicacies inspired by timeless holiday favorites. From turkey meatball tart to stolen, scones and snow forest, every bite evokes nostalgic memories of Christmas past.
5-course for IDR 295,000++
Pairs with Dammann Frères tea
The Bar
Toast to the Season: Christmas and New Year at The Bar
This festive season, The Bar presents a range of Christmas-inspired cocktails, curated by our mixologist to enliven the festivities.
Available for your pleasure throughout December 2023
Starting from IDR 188,000++
Toasting the Year of 2024
Join us for an epic New Year's Eve party in The Bar on level 23 as we count down to midnight with beats by Diosdu. Raise your glass and toast to the end of 2023 it's certainly been one for the books.
Beverage offer
Starts from IDR 1,078,000 ++
KITA Bar
Naughty or Nice and Salute 2024
Whether you've been naughty or nice this year, treat yourself to a cocktail or two at KITA Bar. For a limited time, order our Naughty or Nice cocktails and you'll get a complimentary surprise.
Cocktails start from IDR 155,000++
Celebrate year-end in style and get ready for a fresh new start at KITA Bar. Head to the rooftop and enjoy an evening of fun featuring guest DJs, cocktails, and panoramic city views. As the clock strikes midnight, raise your glasses and watch the fireworks light up the night sky the perfect way to end one year and begin another in good company.
New Year's Eve Countdown Party
First drink charge at IDR 250,000++
Dining Room
Double the Joy with Our Christmas and New Year Feast
Celebrate the Joy of Christmas and Ring in the New Year with Family and Friends. Our Dining Room invites you to indulge in a festive extravaganza featuring an opulent buffet and live cooking stations. Share unforgettable moments, delectable cuisine, and the warmth of the holiday season with your loved ones. Join us for a Christmas and New Year Feast to remember.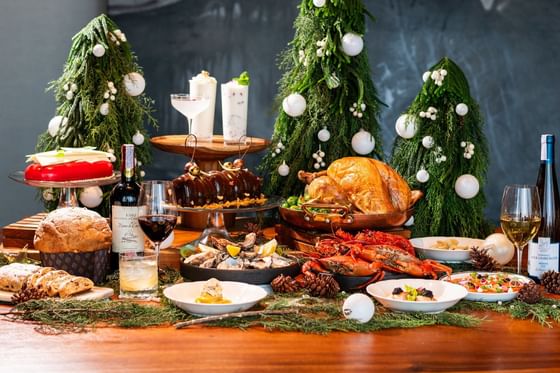 A Feast in the Dining Room
Celebrate the joy of Christmas alongside family and friends, with our extravagant buffet and live cooking stations.
Christmas Evening Buffet
December 24 & 25, 2023
IDR 988,000++ per person
Christmas Brunch Buffet
December 25, 2023
IDR 988,000++ per person
Festive Cocktails
December 1-30 2023
Starting from IDR 135,000++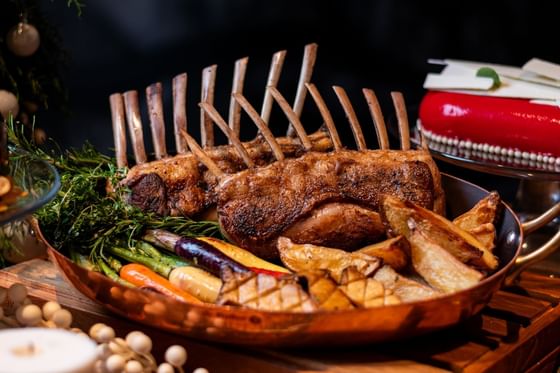 Enticing New Year
Ring in 2024 with an unforgettable New Year's Eve buffet in the Dining Room. With fresh seafood, premium meats, and decadent desserts galore, you'll be spoilt for choice. As the clock strikes midnight, raise your glass to new beginnings and an exciting year ahead.
New Year's Eve Dinner Buffet
IDR 1,088,000 ++ per person
New Year's Eve Super Breakfast Buffet
IDR 399,000 ++ per person
KITA 喜多 Restaurant
Delight in a Joyful Holiday Feast
Join us for an unforgettable Christmas and New Year's feast at KITA 喜多 Restaurant. Celebrate the season with exceptional cuisine, warm ambiance, and the joy of togetherness. Indulge in a culinary journey that promises to make your holidays truly special.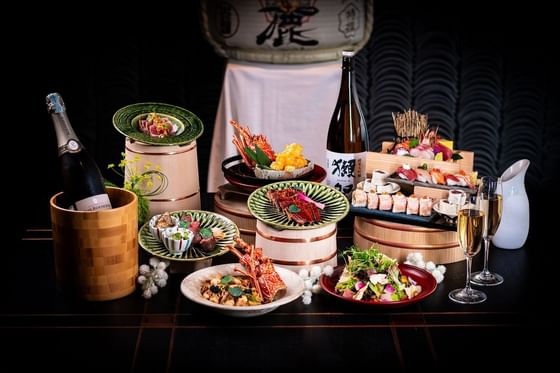 KITA 喜多 Restaurant
Join us at KITA 喜多 Restaurant to experience the taste of joy through a special Shiwasu menu, which includes foie gras potato salda, zeitaku chirashi don, truffle cream udon noodles, ika maruyaki robata, SABA donabe, XO beef with foie gras oyako, don teppan and mizu mochi, all curated by Chef Takeumi Hiraoka.
Available from December 1 – 30, 2023
Starting from IDR 200,000++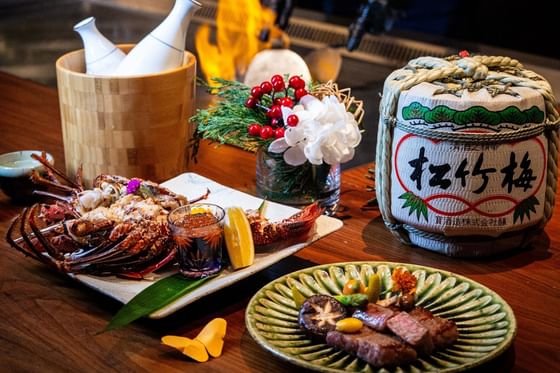 A Joyful New Year
KITA 喜多 Restaurant presents a four-course set menu and a special Teppanyaki menu for a celebration full of joy. Enjoy special rates on selected sake, wine, and bubbles – a delicious way to ring in the New Year.
Four-Course New Year's Eve Dinner
IDR 1,388,000++ per person
New Year's Eve Teppanyaki
IDR 1,888,000++ per person
Four-Course New Year's Lunch
IDR 1,388,000++ per person