Claudio Rossi
Executive Chef
Chef Claudio joined Park Hyatt Jakarta in November 2021, assisting during the pre-opening phase in training and developing the hotel's culinary team to meet the highest standards in luxury dining. He now oversees all culinary aspects for five dining venues and 10 event spaces.
With 40 years of experience in the culinary field, Claudio's passion for cooking stemmed from his childhood, as he loved helping his mother make cakes and fresh pasta. He later studied at Italy's Culinary Institute of San Pellegrino Terme, before being trained in hotel management in Milan. Having honed his skills in his homeland, Claudio expanded his horizons by moving abroad. His first destination was Jakarta in 1992 for an Italian food promotion. He then went on to work for leading prestigious hotels in Manila, Beijing, Hong Kong, Taipei, Chiang Mai, Singapore, Toronto and Damascus before returning to Jakarta.
"The Jakarta dining scene is demanding: meals have to be quick, authentic, tasty, well executed and enough to be shared among family or friends. I think that here at Park Hyatt Jakarta, diners can find all of that under one roof. Park Hyatt Jakarta is not just another typical hotel from a luxury hotel chain, we have created something unique, through luxurious restaurant and bar facilities and appealing dining and drinking experiences." explains Claudio. He says strong teamwork and support are essential for achieving Hyatt's commitment to caring for people so they can be their best.
Johan Kusnadi
Executive Sous Chef
"It all started when my parents decided to send me to Sydney to get a degree in business major. A career in business just never appealed to me. Then one day I got a part-time job as a dishwasher in a decent hotel, just to earn some extra cash. Cutting a long story short, my parents agreed that I could do culinary studies, so I spent three years in Sydney and worked simultaneously. Suddenly, I have now been in this industry for 20 years. It's such a blessing to have been involved in the openings of four great 5-star hotels, working at one of Bali's top tourist venues, Potato Head, and having the opportunity to work in Brunei at The Empire Hotel, owned by the Sultan of Brunei. These achievements didn't always come easily. But there is one motto that I always abide by, winners never quit."
Takeumi Hiraoka
Japanese Executive Sous Chef
Born in Tokyo, Takeumi became interested in cooking at a young age, inspired by his grandfather, who was a chef. "I also dreamt of one day working as a chef abroad because I had been exposed to foreign cultures ever since I was a boy," he explains.
He joined Park Hyatt Jakarta in 2022, bringing his expertise to KITA 喜多 Restaurant, which is now enjoying rave reviews and repeat diners. "KITA 喜多 Restaurant is unique in Jakarta because we use only the finest local and imported ingredients. For example, we use real wagyu beef and genuine hon-maguro bluefin tuna. Our tuna comes from the same trusted source used by Park Hyatt Tokyo," he says.
No stranger to cooking for heads of state and royalty, Chef Takeumi is a master of the delicate knife techniques that are essential for preparation of authentic Japanese cuisine. "Another one of the reasons we stand out is because we provide an innovative but authentic menu thoughtfully searched and carefully served" he says.
Outside the kitchen, Chef Takeumi's passion is photography, not necessarily photos of his culinary creations but of urban landscapes. His eye for unique detail is evident in all that he does.
Ali Saleh
Pastry Chef
"I fell in love with the pastry kitchen since I was a trainee in Mandarin Oriental hotel. From there, I started to look for a job in Dubai, which at that time was still the place to learn and work in some of the best hotels. I found myself at age 19 working in Abu Dhabi and worked my way up in the UAE by spending seven and a half years in different properties and hotels.
Then in 2017, I decided to return to Jakarta and rejoined the Mandarin. After more than four years of working there, I started to think about a new challenge. I found myself moving to Qatar but with the pandemic, it didn't work out, so I decided to move back to Indonesia.
Then I heard that Park Hyatt Jakarta was looking for a pastry chef. Getting this position is one of the best things that has happened to me, other than the birth of my baby girl. As a pastry chef at one of the finest hotels in my home country, I really am living the dream."
Ardi Indrawan
Chef De Cuisine
"I'm passionate about food, cuisine and all that goes with it. Over the years, I've moved from one restaurant to another, from the casual dining concept to the fine dining restaurant concept, from an independent hotel to a chain hotel. I've also met with people from many countries, broadening my views on cooking and how to respect all food and cuisine styles. I really appreciate what the Indonesian motherland gives us to work with in terms of ingredients.
I'm also passionate about molecular gastronomy and artisan style cuisine. I especially enjoy the simplicity of food in its natural form, choosing the best ingredients and cooking methods that represent the harmony of traditions and heritage. At the same time, I am also open to learning new things to discover more about contemporary cuisine, food with a modern touch. I hope I can inspire many young chefs in the next chapter of my culinary journey.
As chefs, we never stop learning and if you have an open mind and heart, then you can embrace and learn from best that this world and its people have to offer."
Luca Cappellato
Italian Sous Chef
Luca Cappellato provides strategic support to Chef de Cuisine, Indrawan Ardi, and Executive Chef, Claudio Rossi. With more than a decade of experience under his belt, Luca is passionate about sharing Italian cuisine through a creative approach based on simplicity and fresh ingredients. His presence in the Dining Room kitchen ensures that the quality, taste and authenticity of regional Italian cuisine is maintained daily.
"I have always had a real passion for Italian cuisine," he says. "That's partly due to my heritage, but also because it tends to emphasize fresh, simple ingredients while being incredibly diverse."
Having worked in restaurants throughout Italy before embarking on his career in Asia, Chef Luca now thrives on delivering exceptional cuisine in a multicultural setting. His culinary creations can be enjoyed at the Dining Room on Level 22, open daily for breakfast, lunch and dinner, at Park Hyatt Jakarta.
Dedi Susanto
Sous Chef - Indonesian Cuisine
"After I finished my studies, I found a job as a steward in one of the famous restaurants in Surabaya, the capital of East Java province, and was promoted to assistant cook. Time flew and I spent three years working in that restaurant, upgrading my culinary knowledge, passion and enthusiasm. Next, I moved to Hotel Tugu in Malang, where I learned many things about Indonesian and Asian food. From here, I absorbed much knowledge on Indonesian cuisine. I spent about three and a half years there, first as a Commis Chef and then as a Sous Chef.
I continued my journey in Bali. On the island of the gods, I spent almost three years with Kempinski Bali, before joining Park Hyatt Jakarta as Indonesian Sous Chef."
John Tobing
Bakery Chef
"I started my career in Nikko Hotel Jakarta as an assistant cook in the bakery section, and as time went by, I became more serious about the bakery world. In my opinion, the bakery world really needs discipline and patience because we need a long process from flour to bread that can be consumed by guests. What I like the most about the bakery is the process of making sourdough, where we are required to be disciplined about time, because we are also indirectly dealing with living things that become yeast which we often call (Leaven) or one of the good bacteria. It takes patience and high discipline to produce good leaven results for a good fermentation process, to produce bread that is aromatic and not too sour for consumption."
F&B Operation Team
Meet the team behind our bars and restaurants.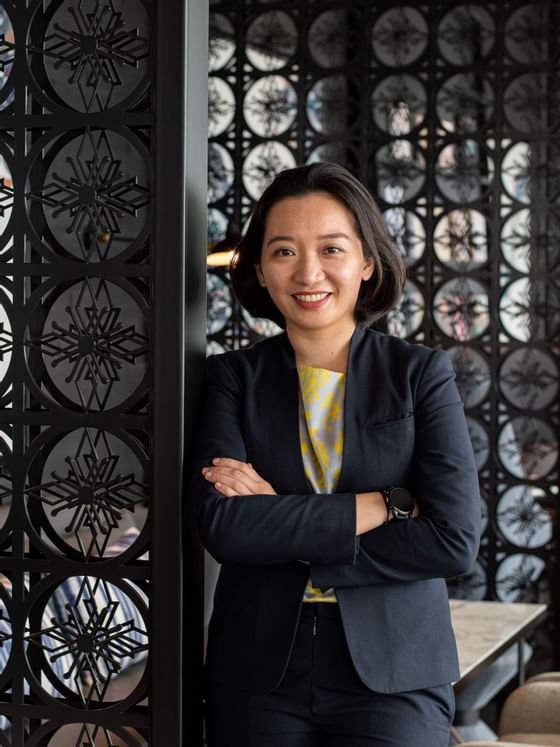 Bonita Alusinsing - Restaurant Manager
Bonita is a Hotel Management graduate who pursued her passion for working abroad. She began her career in 2009 in Doha, Qatar, and spent five years in Oman, where she gained experience in a bar. Bonita then moved back to Indonesia in 2015, where she worked in luxury hotels in Jakarta and a specialty coffee establishment. She has also worked in several luxury property hotels in Bali and Jakarta since 2019, gaining experience and knowledge during her 13-year career in the food and beverage departments.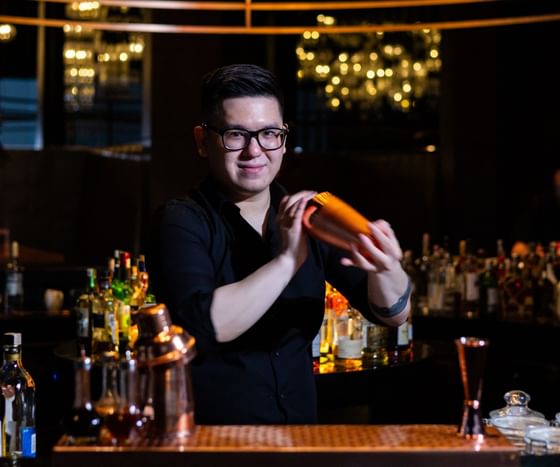 Melvern Nathaniel - Beverage Manager
Melvern, an award-winning bartender, brings over 8 years more of experience from renowned luxury hotels to craft innovative concoctions at Park Hyatt Jakarta.
Having competed in Worldclass Indonesia from 2016 and finally won the trophy of Diageo World Class Indonesia in 2023, Melvern combines his passion for mixology with his mission to promote Indonesia's rich cultural heritage through diverse local ingredients and time-honored traditions.
Stop by our bars and let Melvern's perseverance and artistry transport you on a journey of the senses.
Agus Saparinudin - Restaurant Manager at Dining Room
Agus started as a storekeeper but found his passion in hospitality. He worked at award-winning restaurants in Bali and was part of the opening team for Alila Seminyak hotel. He spent three years in Dubai, becoming a bartender and team leader. After returning to Indonesia, he joined the pre-opening team for The Apurva Kempinski Bali, where he was promoted to managerial positions. Agus is now part of the pre-opening team at Park Hyatt Jakarta and handles Dining Room, he is eager to continue growing in the industry.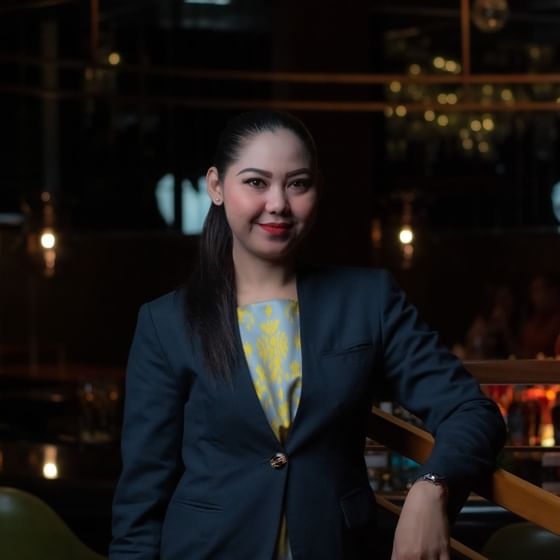 Katarina Mori - Assistant Manager at The Bar
Katarina started her F&B career at 18 and quickly excelled with the help of a supportive supervisor. She explored various roles but found her passion in engaging with guests and fostering customer loyalty through upselling. With a focus on professionalism, Katarina continues to develop her career in the F&B world and strives to achieve her dreams. She is grateful for the progress she has made and is dedicated to achieving the best for herself and especially her workplace.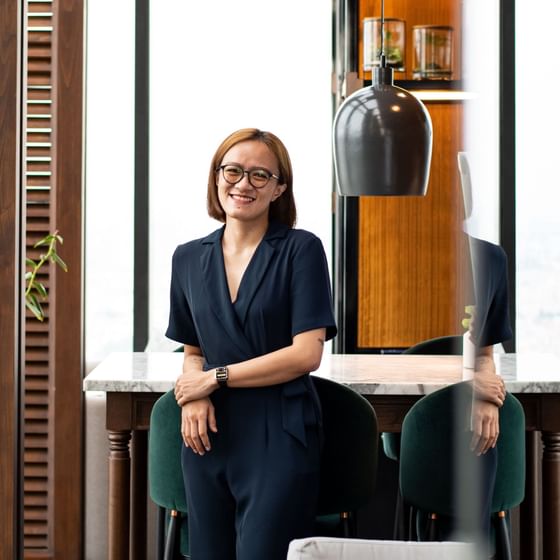 Ivy Vania - Bar Manager at KITA Bar
Ivy graduated from Bandung Tourism Institute with a diploma in Pastry and Bakery Management, but found her passion in the hospitality industry. After job training at Hotel Equatorial Kuala Lumpur and Sheraton Bandung Hotel & Towers, she took a coffee course in 2015 and became a barista. She worked her way up to become head of the bar at Hause Rooftop in Jakarta, and then joined the pre-opening team for Hakkasan Jakarta. She stayed with the company through its rebranding as Chao Chao until 2022. In her free time, Ivy enjoys attending art exhibitions and music concerts, with her favorite band being Sigur Ros from Iceland.