Ramadan Hampers
Park Hyatt Jakarta
Ramadan Afternoon Tea
Conservatory
Teppan Tuesday
KITA 喜多 Restaurant
Wine Wednesday
Dining Room, Conservatory, and KITA 喜多 Restaurant
Whisky & Sake Flight
KITA喜多 Restaurant
New Italian Dishes
Dining Room
Ramadan At The Park
March - April 2023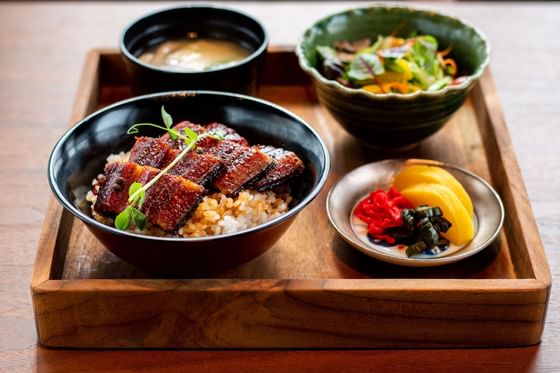 KITA 喜多 Lunch Tray Set
Packed with deliciousness and good vibes, this one will make your lunch break the best part of your day.
Each Lunch Set comes with miso soup, salad, and Japanese pickles.

Available during lunch hour from 11:30 AM - 14:30 PM
KITA 喜多 Restaurant, level 37
KITA Bar Bottled Cocktails
Sip on pure happiness with the newly launched, delicious, all-natural bottled cocktails. Made with only the finest ingredients, our cocktails are the perfect way to unwind and enjoy life's simple pleasures.
Say It with Flowers
Embrace the timeless beauty of freshly arranged roses with our expert florist consultant. Whether you're looking to brighten someone's day or add a touch of elegance to your special occasion, we have the perfect bouquet for you. Our florist consultant will craft a unique arrangement of freshly picked roses that embodies your emotions and conveys your message. Express your love, gratitude, and appreciation with a stunning flower arrangement, hand-selected and arranged with care.
Order now and bask in the joy and magic of giving a bouquet of beautiful roses that will leave a lasting impression.