KITA 喜多 Restaurant
Bringing the Taste of Joy to Your Plate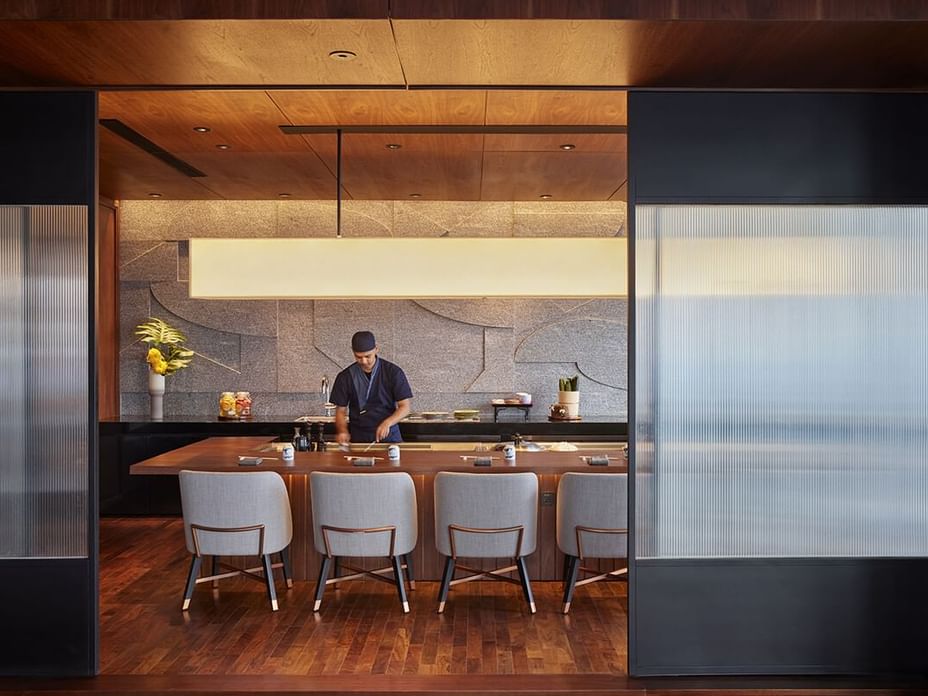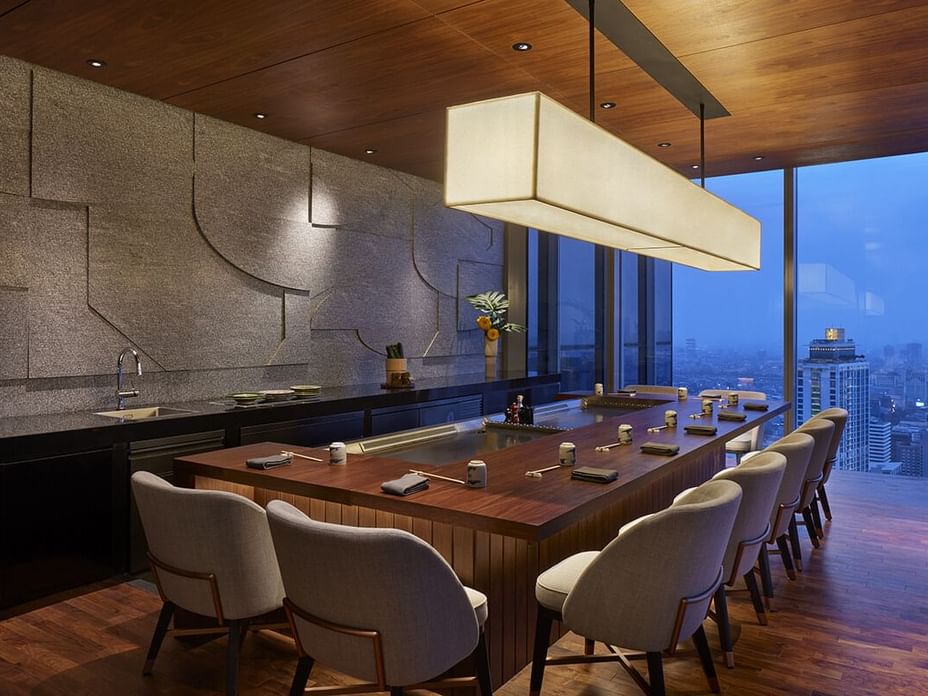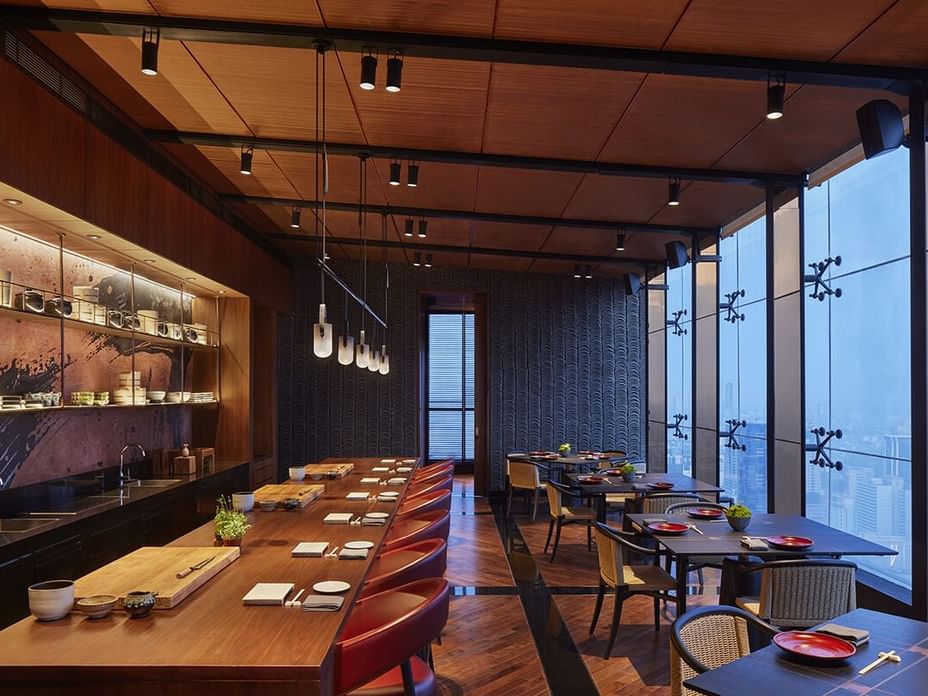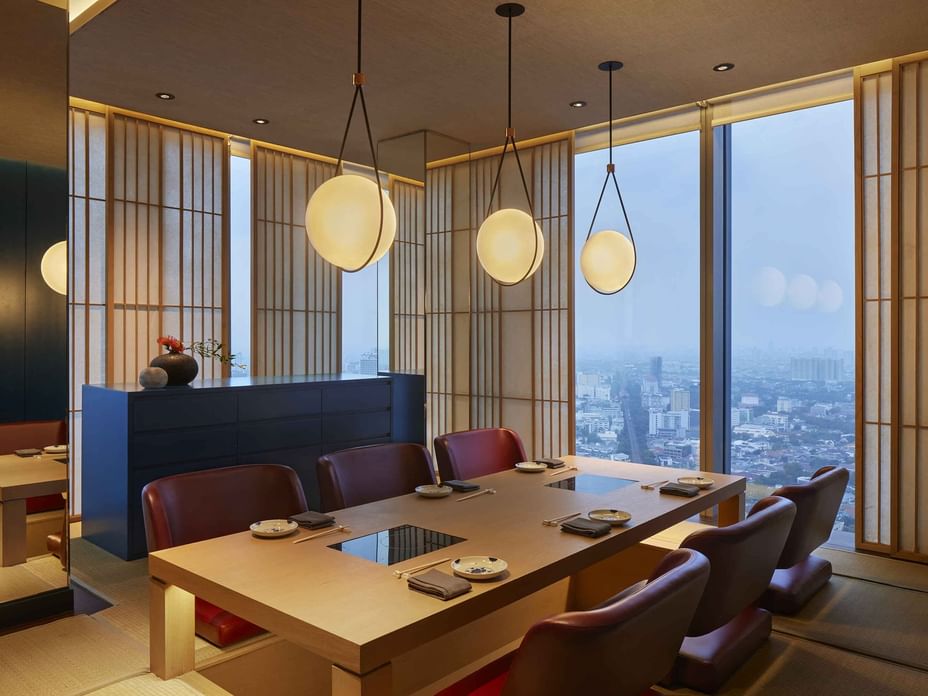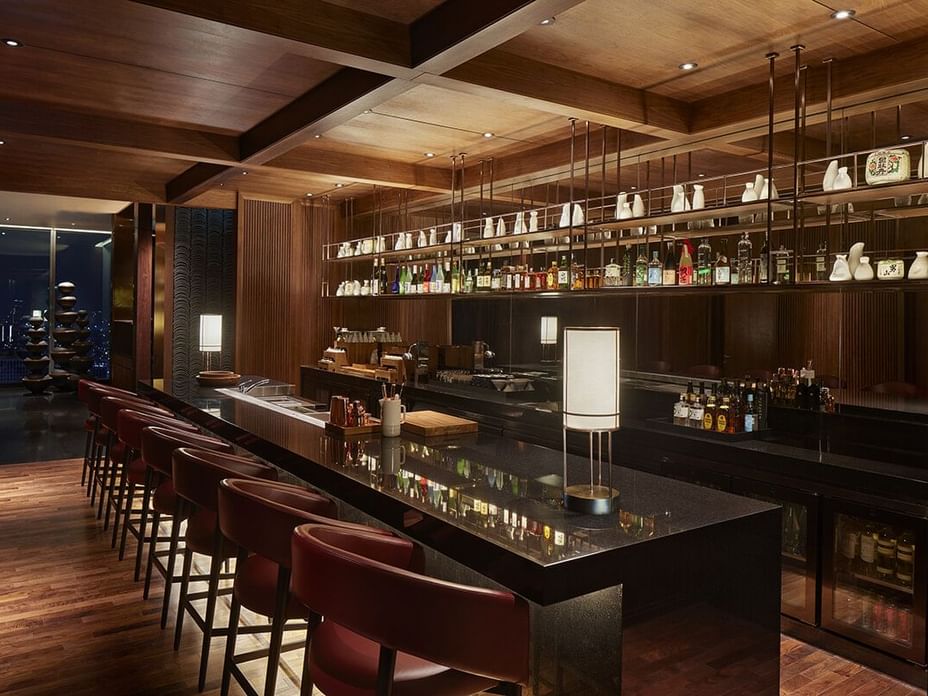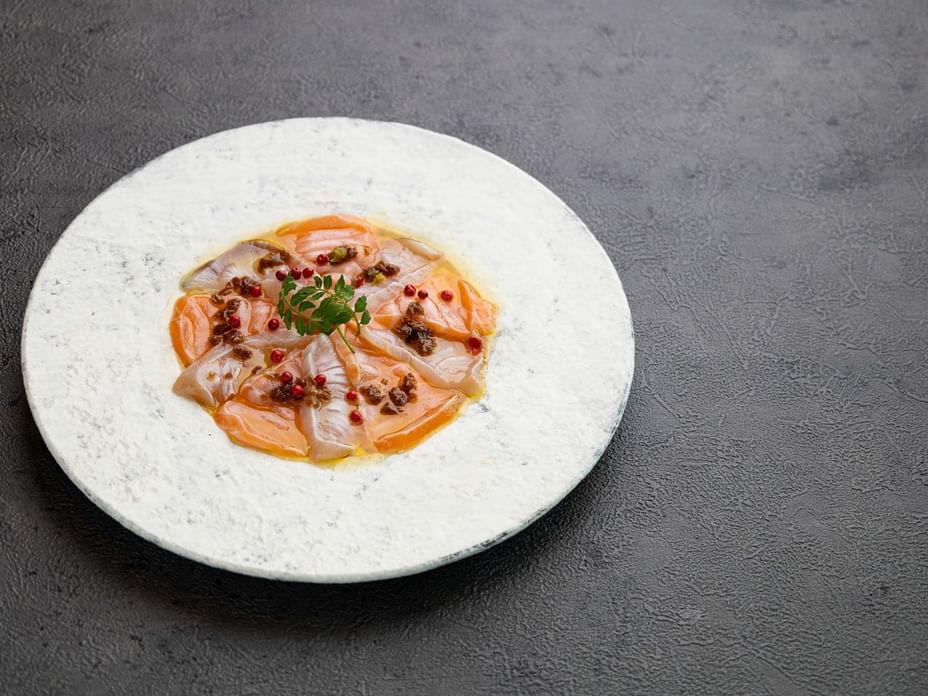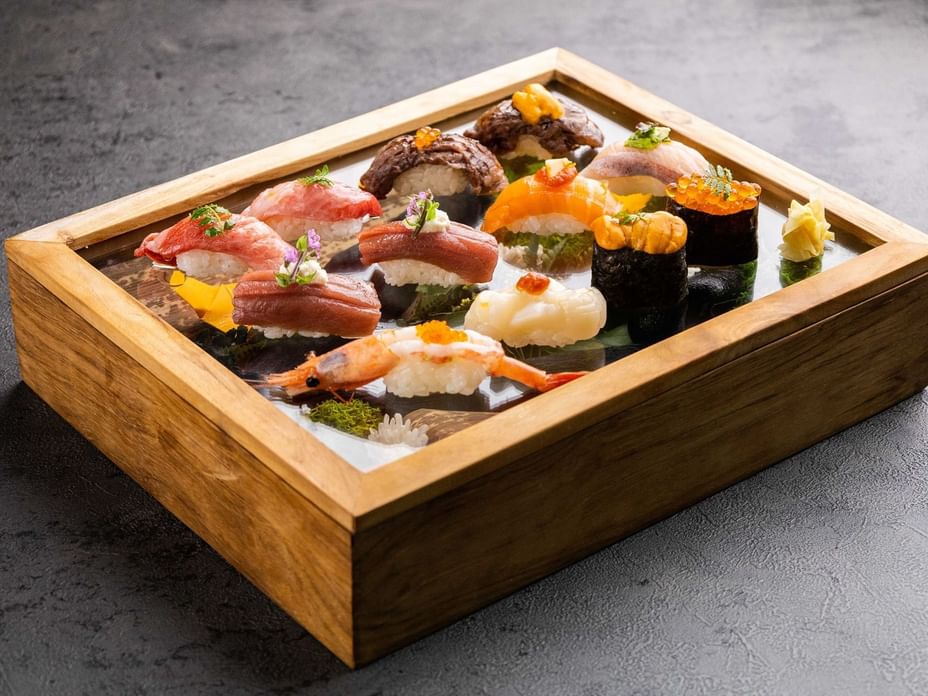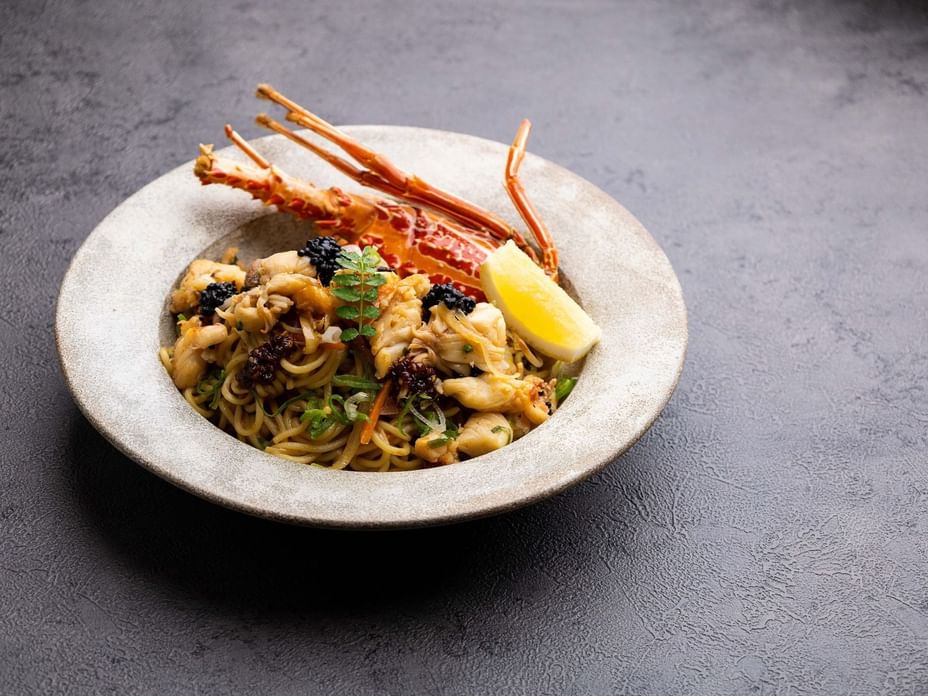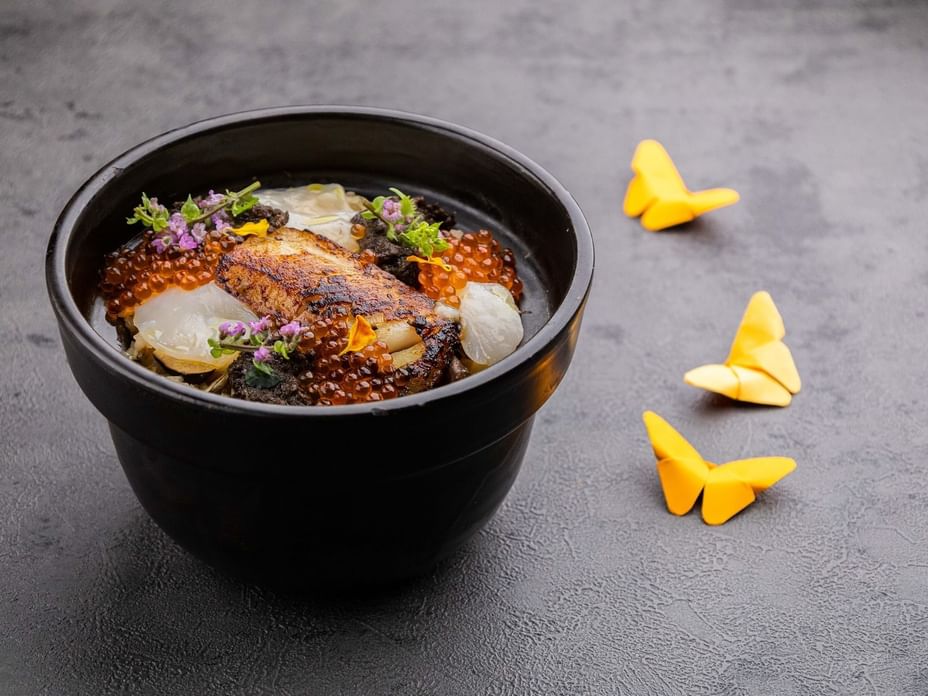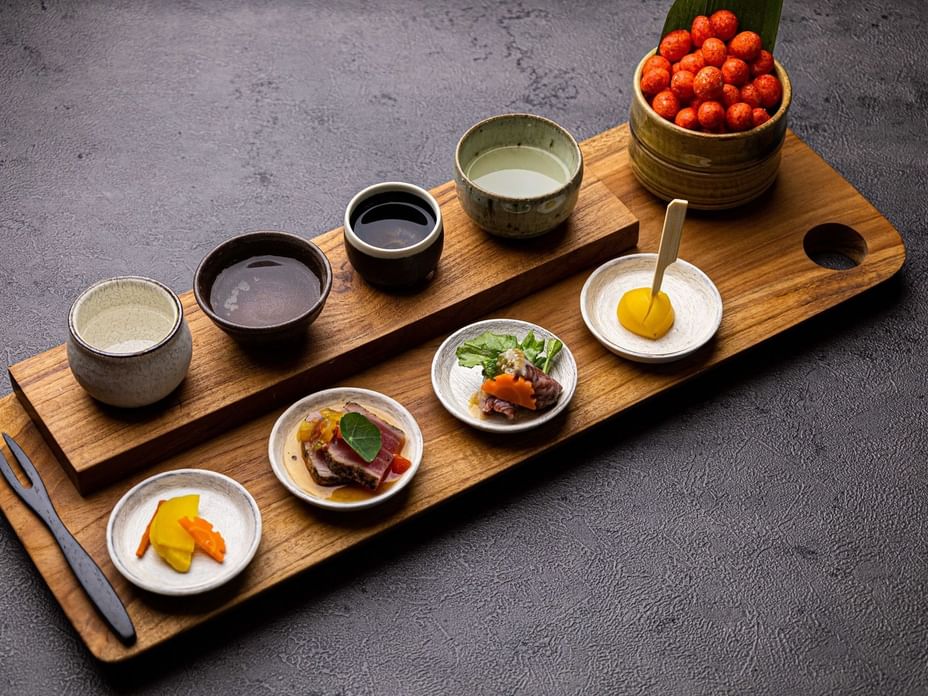 Helmed by Chef Takeumi Hiraoka, KITA 喜多 Restaurant offers the authentic flavors of modern Japanese cuisine ranging from Teppanyaki, Shabu-Shabu, Tempura, Robatayaki, Sushi and Sashimi, all served from a lively open kitchen. The restaurant features nine private rooms, each with breathtaking views of the city. ​
​Sushi and Sashimi: Guests will savor the true taste of Sushi and Sashimi, authentically crafted from the freshest fish and seafood, complemented by our exquisite fresh wasabi and shoyu. Discover the pleasures of an eclectic omakase experience. ​
​Teppanyaki & Robatayaki: Experience an array of premium Japanese, Australian and US beef transformed before your eyes into delectable dishes on our robatayaki grill and teppan tables. Make it a banquet for family, friends or colleagues, as our two Teppanyaki rooms have seating for 18 persons, while our private room seats 12. ​
​Shabu-Shabu: Embark on a journey of gastronomic delights from traditional to innovative shabu-shabu with our three set menus, using the freshest beef, seafood and vegetables. Add to the sensory enjoyment with a choice from our special broths: Japanese ponzu stock and spicy miso.​
​Private Dining Experiences: Ideal for business, family gatherings and celebrations, KITA 喜多 Restaurant has nine private rooms with a range of seating capacities. Special set menus are available for private parties. Enjoy the live performance of our chefs, then relax to the ambience of customizable music and lighting, while taking in magnificent views of the National Monument or Tugu Tani statue. Share the memories as you revel in our diverse selection of the finest beverages. ​
​Sake Bar: Unwind in serenity and splendor at our bar counter as you enjoy Japanese-inspired cocktails and mocktails. Sample our selections of the finest sake, shochu and Japanese whisky, or choose a bottle or two from our carefully curated wine cellar.
Dress Code:
Please dress in smart casual attire and avoid wearing singlets and slippers.
Payment Options:
American Express, Alipay, cash, Diners Club, DOKU, GoPay, JCB, Mastercard, MotionPay, OVO, Payment Link, QRIS, Visa, and WeChat Pay.
Operational Hours:
Monday – Sunday
Lunch 11:30 AM - 2:30 PM
Dinner 05:30 PM - 10.30 PM
Email: dineatthepark.jakarta@hyatt.com
Park Hyatt Jakarta on Level 37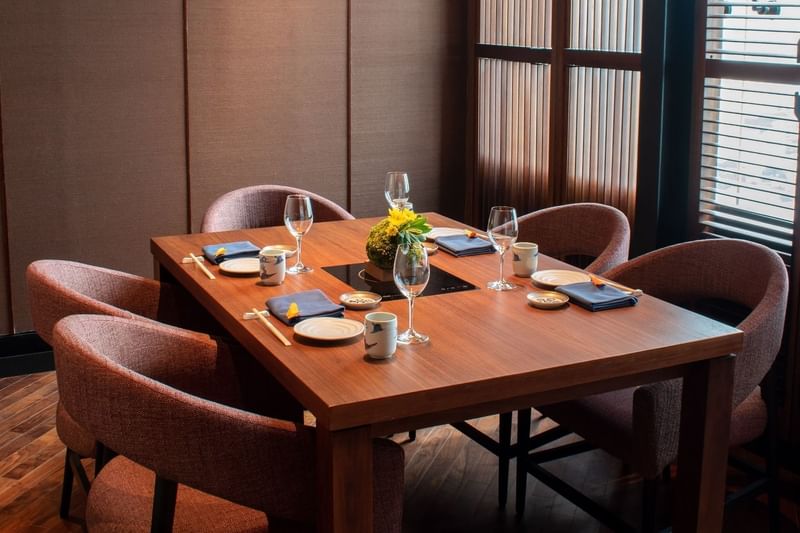 Sora 空
Take your dining experience to new heights with Sora 空, our cozy private dining room with ample space for four guests. Tuck into delicious Shabu-shabu together, while taking in the stunning views of Thamrin.
Minimum spend
Lunch: IDR 3,500,000++
Dinner: IDR 6,500,000++
Hikari 光
Dine in style with Hikari 光, our private dining room. Seating up to four guests, this intimate setting is blessed with panoramic views of East Jakarta and the iconic Tugu Tani monument. The perfect place to enjoy Shabu-shabu together with friends and family.
Minimum spend
Lunch: IDR 3,500,000++
Dinner: IDR 6,500,000++
Umi 海 Kaze 風
Umi 海 Kaze 風, our private dining room that seats up to four guests, offers an intimate and exclusive dining experience with panoramic views of Monas. Enjoy a delicious meal with great company in a beautiful setting.
Minimum spend
Lunch: IDR 3,500,000++
Dinner: IDR 6,500,000++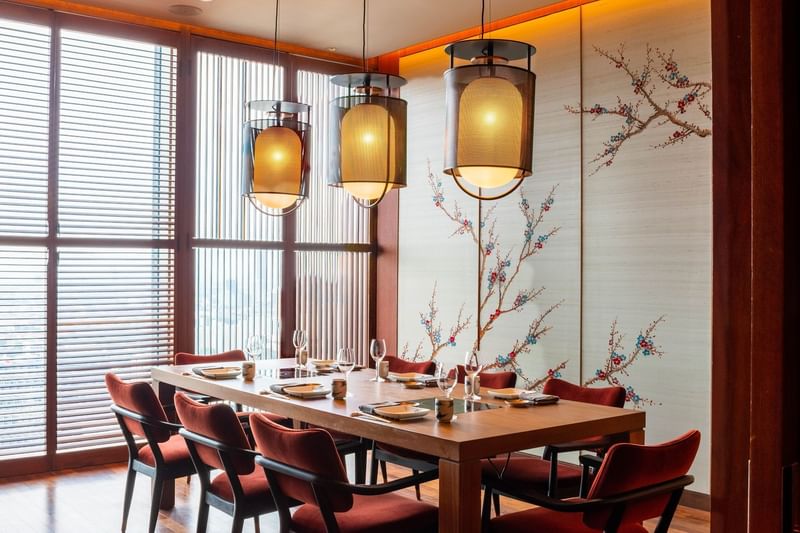 Autumn Lounge & Garden Lounge
Savor the views of North and East Jakarta, while sampling the finest Japanese cuisine with your nearest and dearest. The Autumn Lounge and Garden Lounge can seat six-to-eight guests, making this the perfect spot for intimate family gatherings.
Minimum spend
Lunch: IDR 4,500,000++
Dinner: IDR 7,500,000++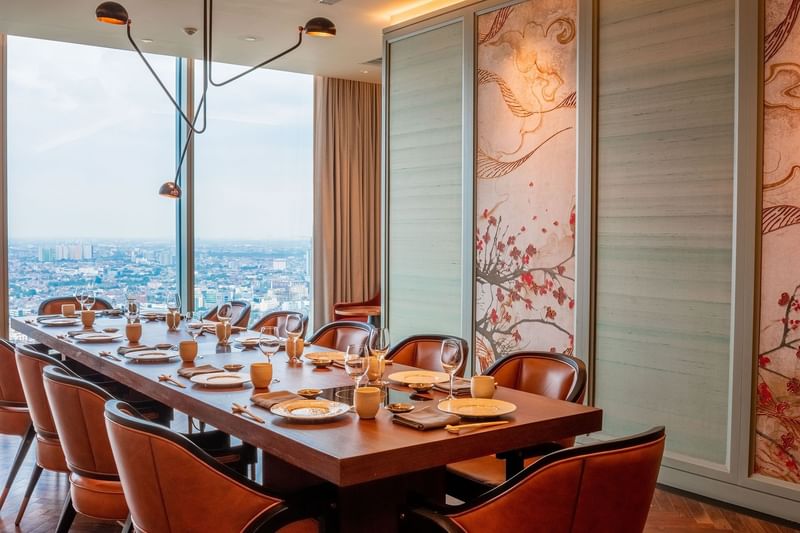 Chairman
Add a little extra sparkle to your dinner with Chairman, our exclusive private dining room. Suitable for up to 12 guests, it features a small lounge and powder room for your privacy and comfort. Your own personal chef will provide an exclusive Teppanyaki experience, which you can personalize with your choice of music. Perfect for intimate gatherings, special occasions or business meetings, this is dining at the very top table.
Minimum spend
Lunch: IDR 8,500,000++
Dinner: IDR 15,000,000++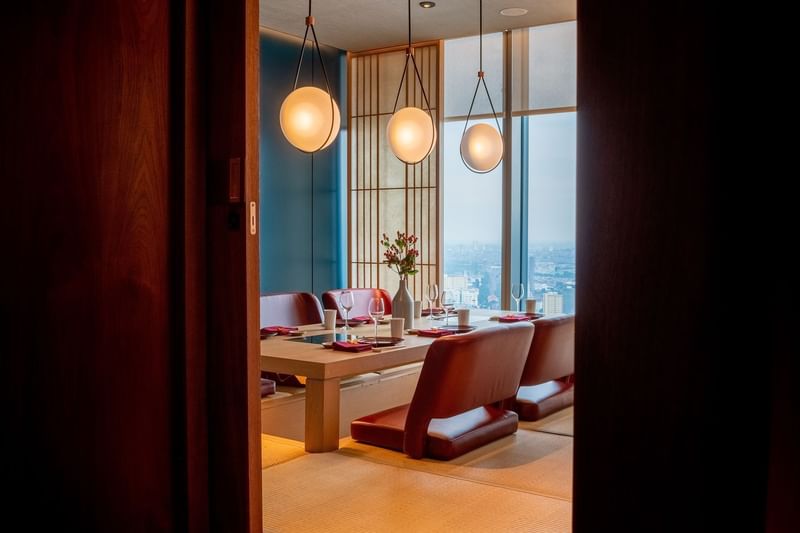 Tatami Room
Treat yourself to a unique private dining experience in our Tatami Room. Designed for intimate gatherings of four-to-six guests, the room plays host to exclusive Shabu-shabu culinary options, with breathtaking views of East Jakarta's Tugu Tani monument as your backdrop.
Minimum spend
Lunch: IDR 4,500,000++
Dinner: IDR 7,500,000++